Sky Lights - Weimar, Germany
Projectors, scaffolding sheets, maps, audio recordings, 2019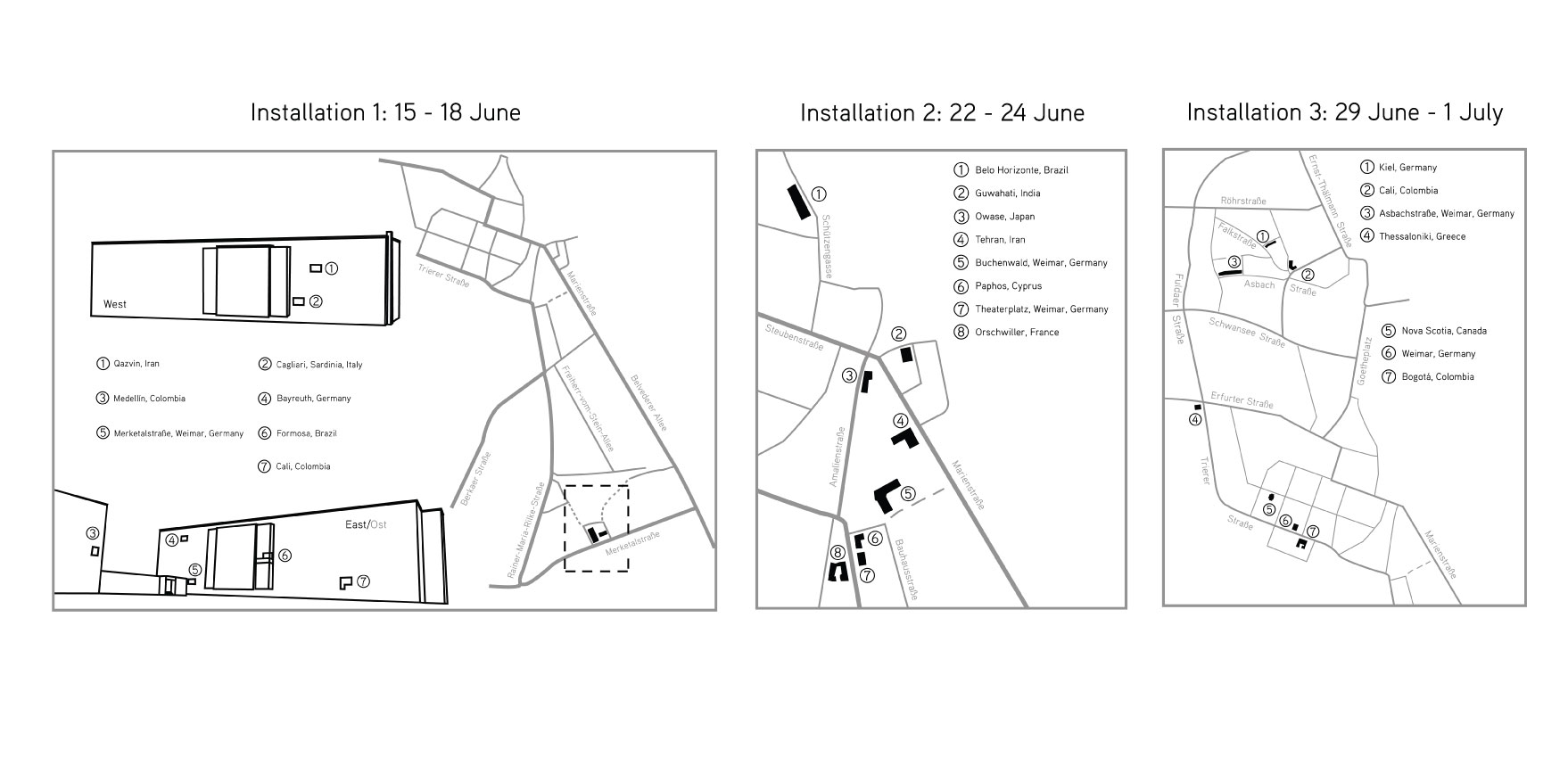 If asked to select a section of the sky to project in your window, where would that sky be?
Over the course of three weeks, Sky Lights projected videos of the sky into the windows of the homes of Bauhaus University students and professors. The placement of each video within windows allows the work to exist in between public and private space. From the public view, the videos are designed to catch your attention much as any screen (tv, phone, or computer) would. However, in contrast to the typical use of screens which often function as advertising platforms, the Sky Lights call attention to an image that is calm and universal, inviting the viewer to observe the work as an image that fits naturally within the urban scene.
Meanwhile, from the private perspective, each sky displayed references a location chosen by each participant. As the participant group consists of an international community, many videos are sourced from a home country or city, while others are chosen based on the visual conditions of the sky, or as a reference to a person. In this way, the Sky Lights reflect the situation of the participant group as international students and teachers, creating a sense of connection and presence between their current home and another place of personal significance.
In preparation and corresponding to each installation, the artist engaged each participant in an interview with questions pertaining to the topics of presence, public and private space, and the use of technology such as phones, and social media. Such questions provided insight on the topics central to the project, while also creating a personal connection between the work and the participants. Additionally, maps were dispersed around Weimar with information regarding the particular locations displayed in each window and the project in general. The maps also displayed a QR code that provided access to recordings of the participants describing their respective Sky Lights videos, which are listed below.
Audio Recordings of the Participants
Installation 1: 15 - 18 June
Installation 2: 22 - 24 June
Installation 3: 29 June - 1 July